Last fall South Dakota Housing Development Authority, launched the SD Cares Housing Assistance program which provides financial assistance for households who have been financially impacted due to COVID-19. Financial assistance can be provided for rent, utilities and mortgage payments (for homeowners).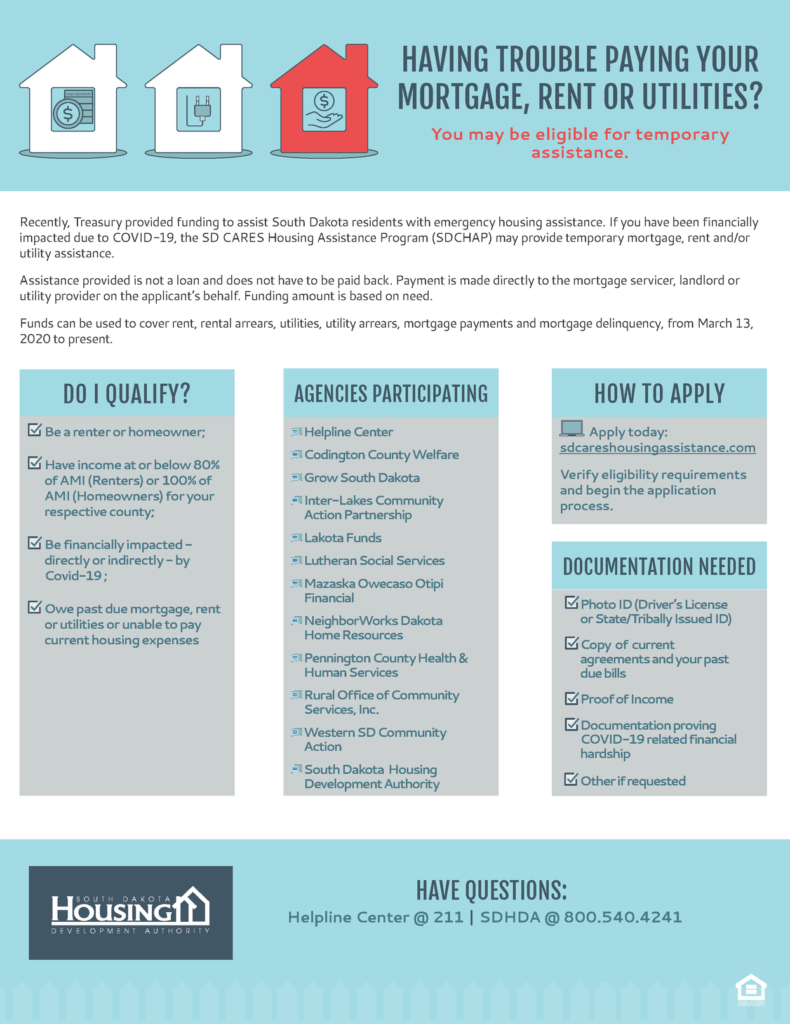 The original funding source was Corona Relief Funds, the current funding is Emergency Rental Assistance with additional funding forthcoming under Emergency Rental Assistance II and Homeowner Assistance Fund. With each funding source there are some variances in program requirements. For renter households their income must be at or below 80% AMI, be financially impacted due to COVID and be at risk of losing their housing due to outstanding rent and/or utility payments. Financial impact can be due to loss of hours, loss of job or increase in household expenses due to COVID.
Tenants residing in public housing, housing tax credit, HOME or market rate housing are all eligible to apply, as well as tenants who have a Section 8 voucher. We have to ensure there is no duplication of benefits, but financial assistance can be provided to assist with the tenant paid portion of the rent.
Program information and access to the application can be found on the following websites. SD CARES Housing Assistance Program | SDHDA or 211 Community Resources | Helpline Center.
Access to program information on the US Treasury website –
Emergency Rental Assistance Program | U.S. Department of the Treasury
Homeowner Assistance Fund | U.S. Department of the Treasury
Tribal communities also received an allocation of funding and many tribal communities have elected to serve those living within their tribal community as well as enrolled members who may be living in different communities. Each tribal community will have their own application process.
We want to ensure all eligible households are aware of this funding opportunity. Can we ask for your assistance in sharing the attached flier with your tenants and with your community?