ADHD Training with Dr Russell Barkley
12:00 CT / 11:00 MT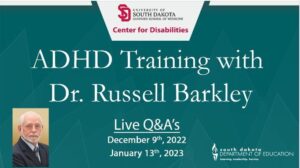 Grab your spot today!!
Russell A. Barkley, PhD, is an internationally recognized expert on ADHD/ADD (attention deficit hyperactivity disorder) in children and adults. He has dedicated his career to disseminating science-based information about #ADHD and is well known for many of his books such as Taking Charge of ADHD, Managing ADHD in School, Defiant Children, and Executive Functions. Dr. Barkley is now retired and no longer providing live presentations, but the Center for Disabilities is excited to offer pairings of Dr. Barkleys recorded lectures followed by a LIVE QA with Dr. Barkley! Each video series will provide learners with valuable information related to ADHD, Executive Functioning, school and home management, and considerations when transitioning from childhood to adolescence.
Each session will begin with participants being sent a small collection of training videos related to ADHD, 10 days prior to our live session. On the day of the live QA, participants will receive a private link to the session with Dr. Barkley. Questions should relate directly to the material in the training videos so viewing these videos PRIOR to the live QA is required. The videos will only be available for the 10 days prior to the training and will not be available following the live QA.
Related Events